Description
Por fin una cámara Browning con la función de envíos de fotos y videos a través de internet. Este modelo es la versión internacional, por lo que está preparado para operar en Europa y en más de 150 países de todo el mundo.
Dispone de una SIM interna preconfigurada que se activa "on-line" creando una cuenta personal y existen varias tarifas de envíos dependiendo del número que se realice mensualmente, según un plan de precios establecidos con Browning, (ver tabla de tarifas). 
Esta cámara puede enviar las fotos y videos por internet hasta un email, pero dispone de una completa app y aplicación para PC, desde la cual pueden revisarse las fotos que quedan guardadas en un servidor en la nube. Para ello debe crearse una cuenta. Mediante esta aplicación pueden revisarse todas las fotos de cada cámara y su ubicación sobre mapa.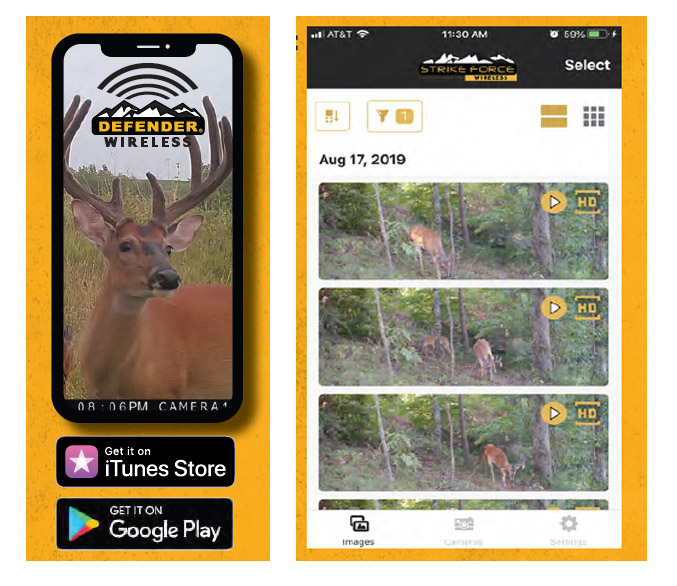 La resolución de foto hasta 20 mpx y video Full HD (1920×1080) a 30 fps. La duración del video es configurable y va desde 5, 10, 20, 30 segundos, e incluso 1 y 2 minutos.
Las cámaras Browning destacan por la increíble velocidad del circuito y en este modelo es de tan sólo 0,4 seg , ajustable a 0,7 s si no se necesita tanta rapidez de disparo.
El campo de detección del sensor es muy amplio y ajustable, llegando a más de 25 m. La iluminación nocturna es muy potente, llegando a más de 25m. Este modelo utiliza leds de luz infrarroja con tres opciones (largo alcance, reducción de efecto borroso e invisible. En este último caso la luz deja de brillar el led y es de "luz negra")
Utiliza pilas alcalinas o de litio, y se puede seleccionar el tipo instalado, para un mejor rendimiento. Se necesitan 16 pilas para este modelo.
Esta cámara dispone de pantalla interna de 2″.
VERY IMPORTANT: We are the official distributor of Browning cameras in Spain. Therefore we offer the manufacturer's warranty of 2 years.
TARIFAS QUE SE CONTRATAN DIRECTAMENTE CON BROWNING
TIPO DE SUSCRIPCIÓN

NÚMERO DE ENVÍOS

TARIFA MENSUAL

SPORT

1200 FOTOS

12,99 $

SPORT PLUS

2400 FOTOS

16,99 $

EXPLORER

3000 FOTOS

25,99 $

EXPLORER PLUS

6000 FOTOS

100 VIDEOS

39,99 $

DISCOVER

12000 FOTOS

150 VIDEOS

64,99 $